Jim Wolford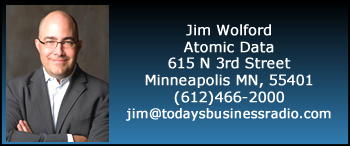 Before beginning his career in the Information Technologies industry, Jim attended St. John's University in Collegeville, MN. For the greater part of the past fifteen years, Jim has assisted Minneapolis-based corporations with their strategic Internet plans and in the project management of their business systems. Working on projects that range from hardware architecture to supply chain management, Jim has been exposed to all facets of the new digital economy. Jim's skill set stems from his understanding of where the ideologies of traditional business meet those of the digital age. This understanding has provided Jim direction in all aspects of the decision-making process in regards to design, architecture, development, implementation and post-development strategies.
As CEO and Owner of Atomic Data, Jim Wolford is responsible for providing the leadership necessary to position Atomic at the forefront of the industry. Jim began Atomic as a consumer product, providing IT solutions applicable to the masses. As the data center industry evolved and client needs outgrew consumer solutions, Jim realized that a more boutique methodology was needed. Because no two clients' have identical business needs, recommended solutions shouldn't come in a box. It was Jim's insight that transformed Atomic Data  into multi-location, managed service data center that it is today. As Cloud Computing comes to age, this paradigm shift has been further escalated.
Atomic has data center locations in Minneapolis MN, Edina MN, Mankato MN, Phoenix AZ, Atlanta GA, Hong Kong P.R.C., and Madrid Spain. Atomic provides a wide range of managed IT services that include the following: Internet Connectivity, Workstation & Server Back-up, Virtual Servers, Level I-III Enterprise Engineering, Enterprise Storage, Web Hosting, Network Monitoring, VOIP Solution, Managed & Shared Microsoft Exchange Solutions and Hosted Microsoft SharePoint Solutions. Jim makes it his personal and company goal to help business owners take total control of their IT infrastructure/data & properly use it to achieve their goals & objectives.