Kurt Rakos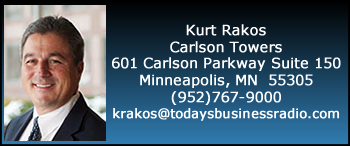 SkyWater is a "short list" search firm which specializes in the placement of IT, Accounting/Finance, Sales and Marketing, and HR related personnel. The company also has a highly specialized CPG (consumer packaged goods) industry-based practice group. The firm was founded in January 2013 by Kurt and two of his former Partners from McKinley. 17 former employees from McKinley Group and McKinley Finance are part of this new venture including 7 of the top 8 individual producers from 2012. Kurt Rakos was one of the Co-Founders and a Partner of McKinley Group from 2001-2012. During the last seven years at McKinley Group, Kurt managed the permanent IT search practice group. In 2012, this group was the largest and most productive practice group at McKinley and included the top producer in the firm and Rookie of the Year Award winner. This record-setting, fast-growing group is now part of the SkyWater family. Prior to McKinley Group, Kurt was a sales management executive at a multi-billion dollar Fortune 500 sales organization. During that time, he held several sales and sales management positions for this industry-leading organization. Kurt holds a B.S degree from St. Cloud State University. In his spare time, he enjoys spending time with his wife and two children.
About SkyWater Search Partners (
www.skywatersearch.com
)
SkyWater Search Partners is one of the largest independent corporate and executive recruitment firms in Minnesota.  With a team of 20 specialist recruiters, we are dedicated to finding, securing and placing high caliber candidates in the field of Sales, Marketing, Engineering, IT, as well as Accounting and Finance.  For the past 20 years, the leadership team at SkyWater has placed top tier professionals in corporate and management positions.  This leadership team has been named and identified in the following publications: 
Inc., 5000 Listing
(four times); Minneapolis/St. Paul Business Journal's Fast 50 List
(past four consecutive years);
2012 Minneapolis Star Tribune Top 100 Best Places to Work
; and in 2013 was awarded 
Best Place to Work
by the
Minneapolis/St. Paul Business Journal.