Thomas Lyons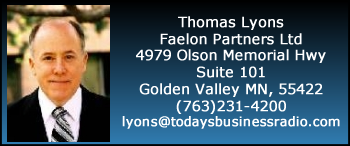 Thomas W. Lyons is founder and principal partner of Faelon Partners, Ltd., a mergers, acquisitions, and consulting firm in Golden Valley, Minnesota.
For 35 years, Mr. Lyons has owned, operated, bought, and sold businesses. For 10 years, he served as the business manager of the Minneapolis law firm, Sieben, Grose, Von Holtum & Carey. During this time, he was also Vice President of a local investment group and responsible for analyzing the financial position of hundreds of companies for possible acquisition. Faelon Partners, Ltd., has been a nationwide merger and acquisition firm since 1985.
Mr. Lyons is a frequent speaker, host of "TodaysBusinessRadio.com and the MinnesotaMilitaryRadioHour.com, guest lecturer at university MBA programs, contributing writer to business publications, and a resource for the business page of the Minneapolis StarTribune.
As a Viet Nam Veteran of the US Air Force, Mr Lyons believes that it is his duty to ensure that today's troops are treated with the respect and dignity that they deserve after having risked their lives for our Country. Both Faelon Partners, Ltd and Today's Business Radio, LLC have been proclaimed as Yellow Ribbon Companies by the Governor of Minnesota and the Adjutant General of the Minnesota National Guard.
Mr Lyons is a member of the board of directors the Minnesota Military Family Foundation and chaired the MMFF Golf Classic in 2010 to raise funds to help MN military families, in need of financial assistance.
Mr. Lyons is available to speak on the following topics:
Exit Strategy: Maximizing The Value Of Your Business
Liquidity Event: The Importance of a Wealth Manager To Selling a Business
Business Valuation and Increasing Your Enterprise Value
Succession & Emergency Planning For Business Owners
Specialties
Business Brokerage
Mergers & Acquisitions
Business Consulting
LinkedIn Profile